About Us
Toronto Community
There are about 350 members of Saadat-e-Amroha living in Canada. Most of them are living in the Greater Toronto Area. They are highly educated and talented people including doctors, engineers, lawyers, accountants, teachers, poets, writers and entrepreneurs. Their children are intelligent, hard-working and pursuing to get the highest level of educational and professional qualifications. Saadat-e-Amroha members are simple, decent, tolerant and helpful people. They are honest, upright and conscientious.
These qualities of Saadat-e-Amroha can be attributed due to its rich heritage. The members of Saadat-e-Amroha are direct descendants of the Holy Prophet, Muhammad PBUH. Almost all the families trace their lineage tree (Shajra) to the Prophet and are quite proud of it. Specifically, they are the descendant of great Sufi Saint Syed Hussain Sharfuddin Shah Wilayat who was in 11th generation of Imam Ali Naqi, the tenth Imam of Shias and 20th generation of the Prophet Muhammad PBUH. In their religious belief the members of Saadat-e-Amroha are tolerant and broad minded leaning more towards spiritual virtues than radical Islam.
Members of Saadat-e-Amroha inherited high moral and rich cultural values as their forefathers belonged to the landed aristocracy and nobility of Mughal era. One of the great grandfather of the members of Saadat-e-Amroha, Syed Muhammad 'Mir Adl', was the Chief Justice during the rule of 'Akbar the Great', and others were appointed as judges from time to time by the royal court. In addition, their ancestors had scholastics pursuits and many of them were poets and writers. Inherently Saadat-e-Amroha members have strong sense of equity, justice and fair play.
Saadat-e-Amroha members are spread all around the world. More than 100,000 are living in Amroha, Delhi and other parts of India. Around 50,000 are in Karachi, Lahore, Islamabad and other cities of Pakistan. A large number is living in England, Middle East and Australia. In North America, besides Toronto, large concentrations are in New Jersey and Houston. Saadat-e-Amroha community is very well knit and maintains its links amongst each other. The older generation knows each other very well while the younger generation is not so close to each other. Anjuman Saadat-e-Amroha has been making conscious efforts to keep the younger generations connected and maintain its links, tradition and cultural values.
Saadat-e-Amroha are primarily community welfare oriented. Besides other welfare activities, they are more inclined to promote educational pursuits. They have successfully established very good schools, with subsidised fees, in Pakistan and India providing secular education. The objective is to cater the needs of the lower and middle class income families to impart quality education at a minimum cost.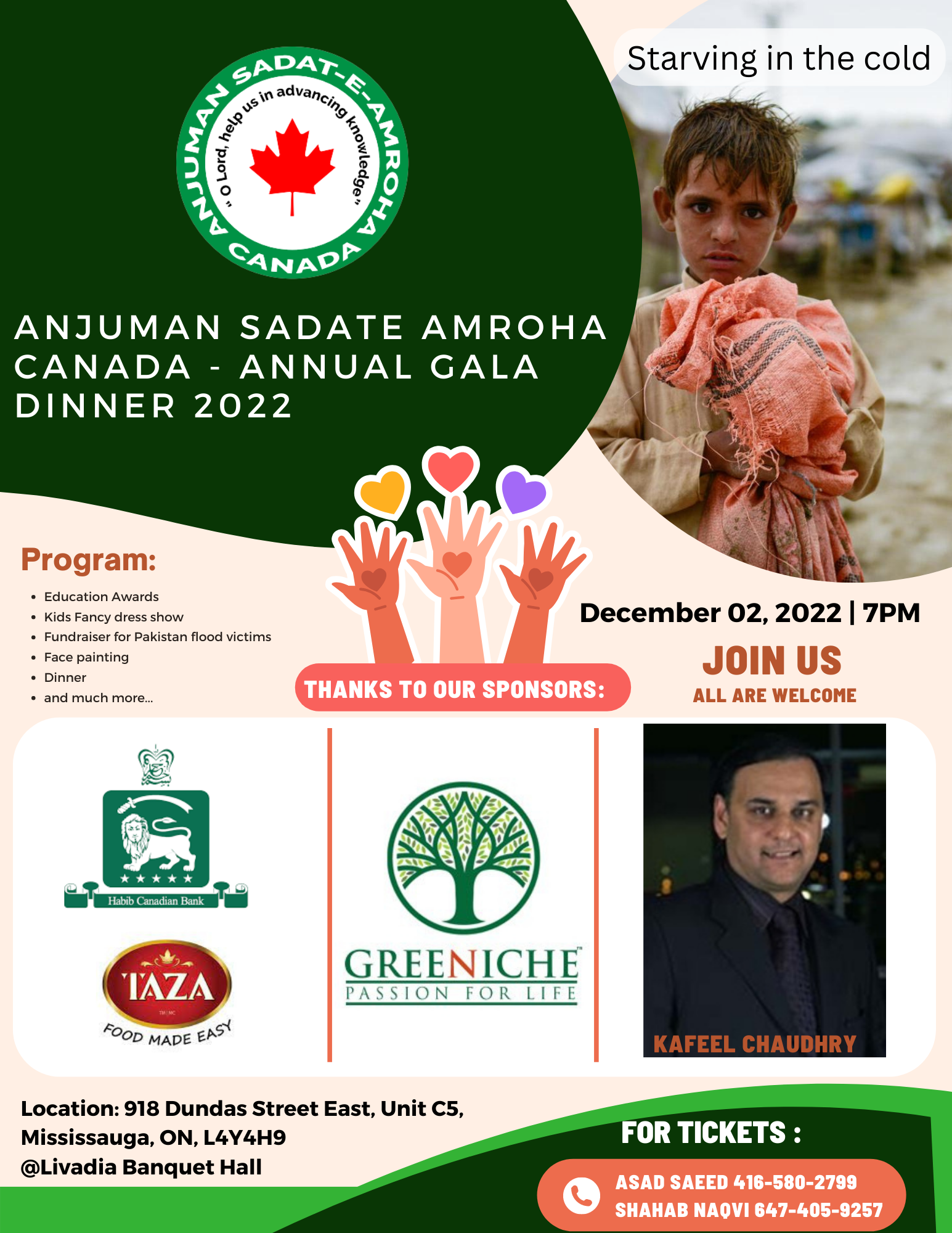 Annual Fundraising Dinner 2022